The goldsmith and the caviar specialist, two exceptional French houses, have joined forces to offer a unique caviar service.
We are not going to let it happen. With the end of the year holidays approaching, Sturia, breeder and producer of caviar, and Christofle, goldsmith and manufacturer of objets d'art of the table, launch a unique and custom-made caviar service designed to magnify the ritual of tasting caviar and embody a certain idea of the art of live the French way. The "Sturia X Christofle pearl" was born of the will of the two French houses to gastronomy through an original creation process. Collector's item, this service is the embodiment of this creative process whose design and form evoking a grain of caviar, are inspired by the iconic MOOD by Christofle, this case to cutlery cult of the goldsmith.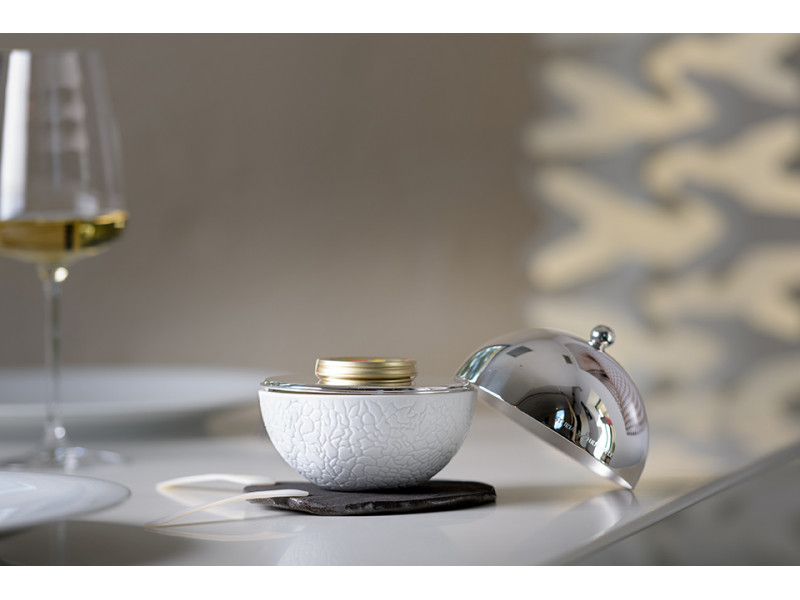 The "Sturia X Christofle" pearl is composed of a French porcelain base with a textured appearance on which appears in relief the characteristic mosaic of Sturia. The wedge, used to receive the caviar box, as well as the bell are in silver plated metal. In homage to French caviar, which celebrates its 100th anniversary this year, this service, made in France, is produced in 100 numbered copies. It is already available for pre-order, exclusively on the Sturia online store.