Challenged by Bulgari on the field of the skeleton watch, flat, cool and sexy, Piaget strikes back with its new Polo. A sporty-chic ground where the manufacture finds its superb and its sex appeal.
Olivier Müller
Piaget, master of the extra flat, dominated its world of watches as thin as an angel's hair – the famous "Altiplano", which laid the foundations of the exercise for 70 years. This spearhead could have lasted a few more decades…if not for the intervention of Bulgari. The Italian jeweler has shattered six world records for finesse and redesigned the style of the extra-flat watch from top to bottom. Piaget K.O. ? Far from it: the manufacture has decided to fight back on another field: the sport-chic watch. This is the mission of the Skeleton Polo.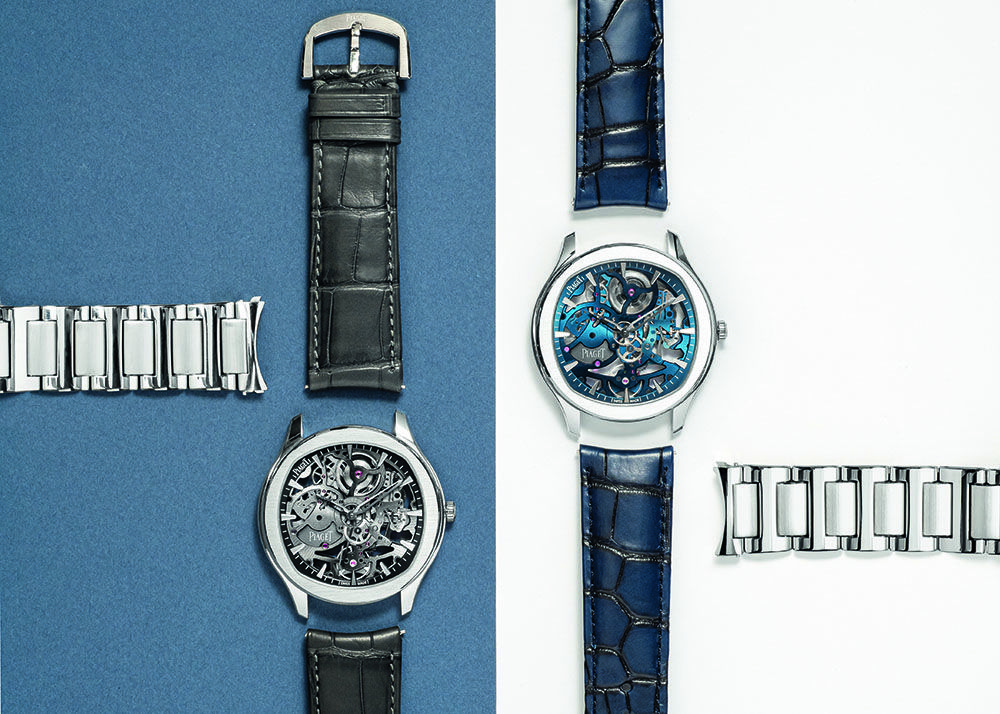 Launched in 1979, the Polo returned to the spotlight in 2016. Five years later, the beauty – which is reminiscent of the soft curves of the Nautilus, originally released at the same time, in 1976 – gets a facelift with a striking, young and sporty skeleton version.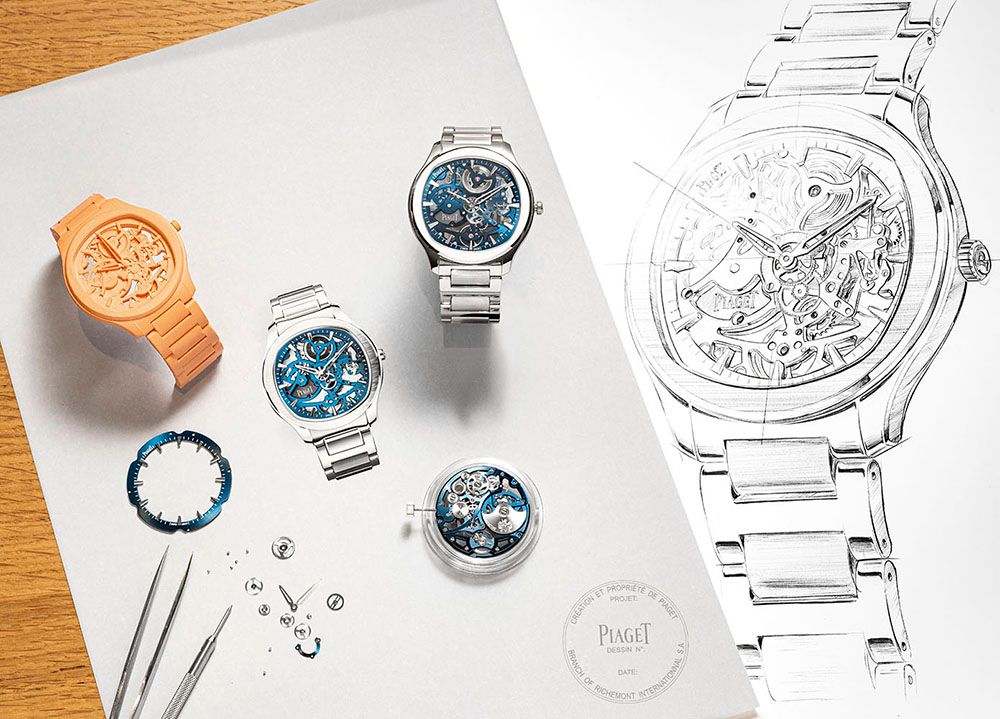 The approach is consistent, since the first Piaget skeleton watches also date back to the 1970s. The Manufacture has perfected its art on numerous occasions, notably on its Altiplano. The Polo now benefits from this know-how, in a more sporty and contemporary case. It combines attractive vintage lines, a very modern skeletonized movement, and a very flat case (6.5 mm) that recalls Piaget's history in this field. A sort of "all-in-one", a condensation of the talent of the manufacture.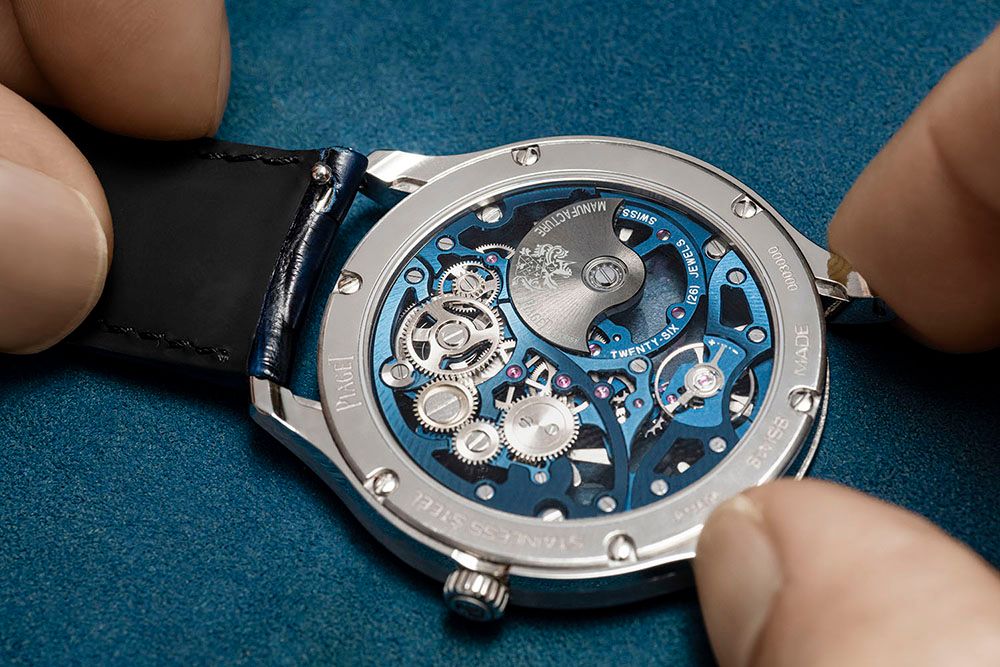 In order to successfully develop the Piaget Polo Squelette, Piaget's designers and engineers emphasized the aspects that make it instantly recognizable, including its curved case topped by a round bezel, its cushion-shaped dial, and its slim profile. This has been reduced by 30%, notably by integrating the oscillating weight into the movement via a micro-rotor. The movement, in the end, is only 2.4 mm thick but preserves a conventional power reserve (44 hours).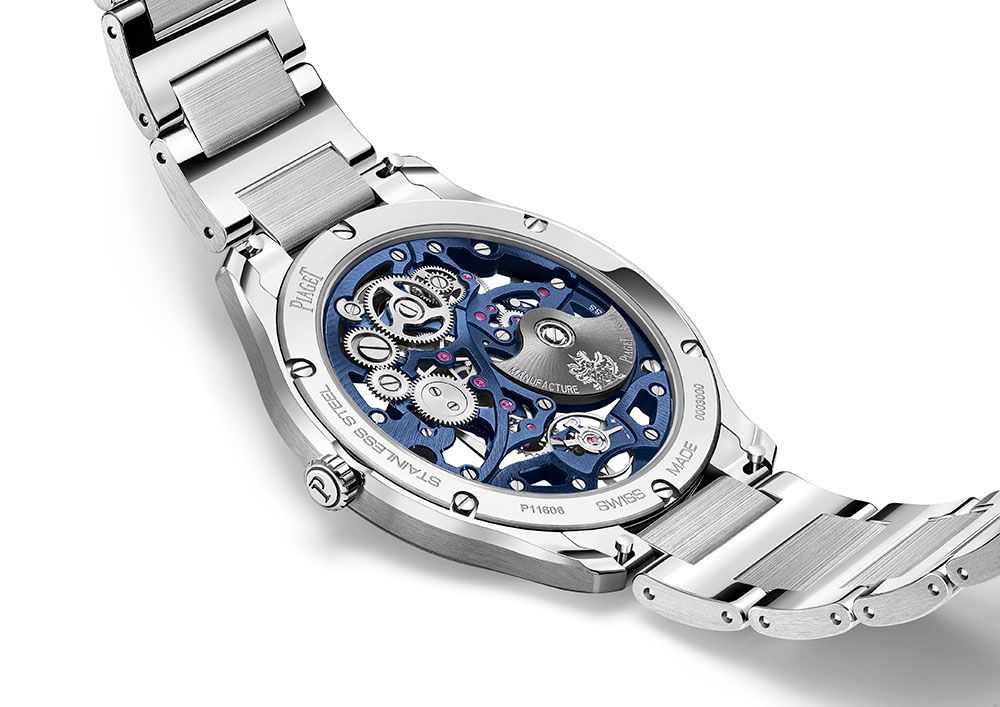 To keep up with the times, the Polo Squelette also comes with interchangeable straps – leather or steel, as desired. They will be customized according to the finish chosen for the movement, PVD blue or grey anthracite. Store price: 29,400 euros.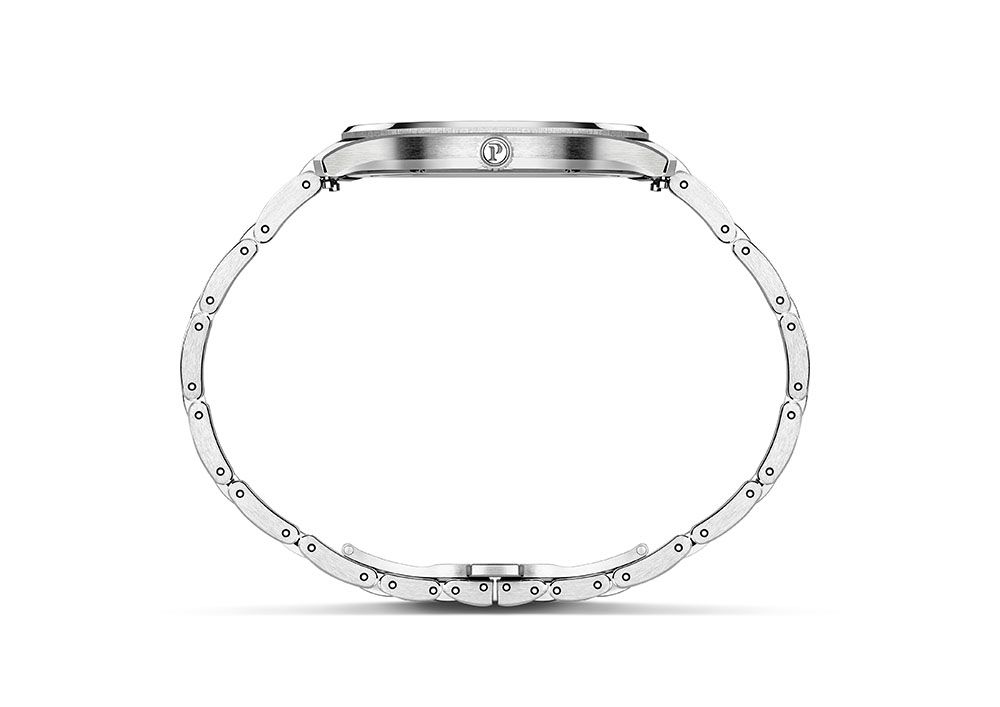 Our opinion: "It's hard to get out of one's comfort zone, of 70 years of expertise, in a fairly conservative watchmaking environment! Piaget is nonetheless beginning to make a few fine departures from the powdered classicism that has reigned within its walls until now, and this Polo Squelette is the proof. Sexy, dynamic, its thickness XS lightens its curves. The 42 mm diameter is decidedly masculine, a 40 mm version would be welcome. The choice of a 42 mm for the Polo Squelette affirms its sporty and contemporary personality while, in fact, the piece is more urban and vintage-inspired, two qualities that could orient it towards a 40 mm diameter, without losing anything of its expression. This is a development that we hope will happen soon. The fact remains that the piece, largely likely to offer the brand a new, younger and trendier clientele, only opens a small door for them: at nearly 30,000 euros for a watch, it is not certain that the 25-40 year olds will go through with it." Olivier Müller