What's the one piece of clothing you can wear on Friday at the office as well as Saturday night at the theater or Sunday for brunch with your sister's annoying new fiancé? If you're thinking about your sneakers, I don't congratulate you: it was all in the title.
By Raphaël Sagodira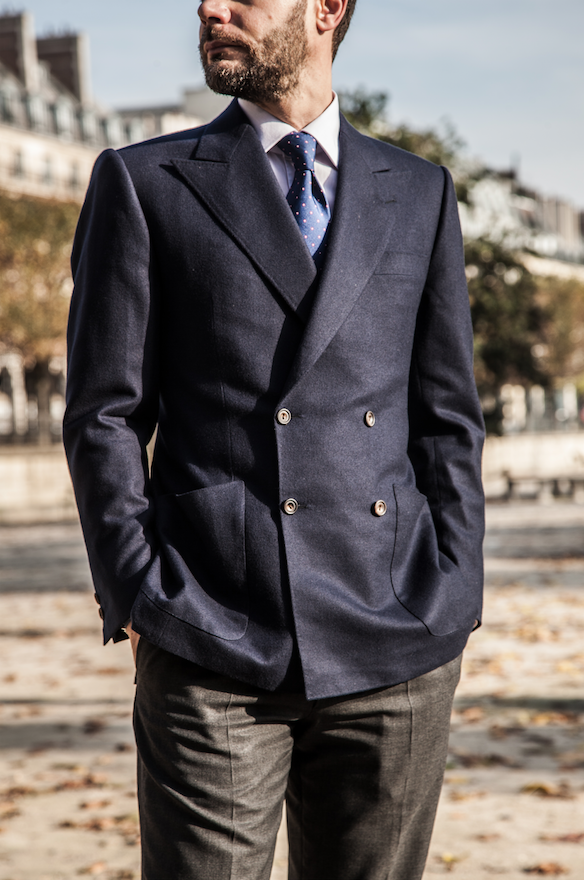 The blazer is not only a jacket without matching pants: it is also a garment that meets many codes. Done right, these rules make you the most elegant man in the room: not too dressed up, not too dressed down. Conversely, ignoring these codes makes you look like a nostalgic UDR or, worse, a bad auctioneer.

If the word blazer brings to mind terrible weather, gin and tonic and a certain idea of humor that is not without annoying the French in you, it is right: the blazer is an English garment. It would have appeared in 1825, worn by members of the rowing club of the prestigious Saint John's College in Cambridge. Members of the Lady Margaret Boat Club on were then wearing "a bright red", which translates into local dialect by "a blazing red". A very practical short jacket, at a time when we it was common to dress in frac and frock coat! It is also said that the blazer becomes a garment so popular among civilians in the nineteenth century century that it is even adopted as a uniform by the British Navy: it is then plain blue or striped with white and gold buttons. Some legends mention this blazer port on board the HMS Blazer to 1837… but nothing proves it. What is certain, however, is that the blazer was an essential piece of clothing for the Mods of Swinging London. From its origin, remember only the cool of the Beatles and forget the martial evocations.
I know that you are afraid of the too big, too long, gold-buttoned, even crested "blazer" that your mother forces your father to wear to go to the Automobile Club. Don't worry: the one you need has nothing to do with that. Yours is modern and simple. Shorter than your usual jackets, it's cut from a textured sheet such as a wool batting to really stand out from your suits. It's a two-button straight jacket with a sporty notch and medium-width lapels – leave the small lapels to those who want to remain eternal interns. Why not choose a model with patch pockets? Your jacket will look more casual.
If you like to dress up, you can always wear the full outfit: a blazer with a striped club tie, medium gray pants and a pair of tassel loafers. But there's no need: you've been telling everyone about your famous summer semester at Oxford! Go for a more contemporary look with a light, unbuttoned shirt and mouse grey pants that can be white in summer. For dinner with your colleagues, jeans are acceptable. On the other hand, wearing them in a restaurant could be a valid reason for divorce. As for shoes, leave the Richelieu in the closet: a nice pair of derbies with two eyelets will be perfect in the evening, while a pair of hunting derbies in grained leather will be ideal with jeans.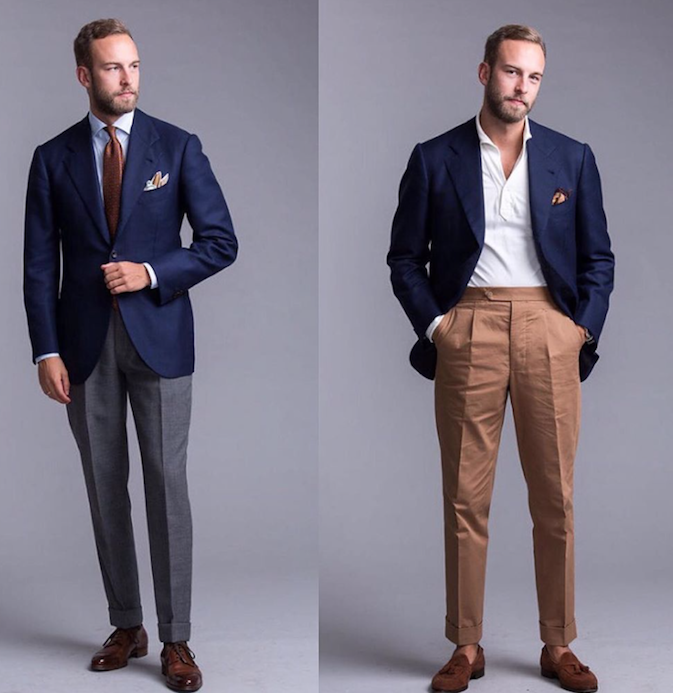 If the occasion is special, before you leave, don't forget to complete your outfit with a colorful silk clutch, quickly stuffed into the breast pocket. Hurry up, finally! The cab to the theater is waiting for you.
Our two Blazer addresses:

ATELIER DE LUCA. Emanation of the great tailoring house Camps de Luca – Living Heritage Company – still family owned. Info : www.atelierdeluca.com – 11 Rue des Pyramides , 75001 Paris – tél. : 01 42 61 68 61. – contact@atelierdeluca.com
ATELIER MESURE. Store held by two brothers who are for years in the elegance and who really know their job. Info : www.ateliermesure.paris – 44 Boulevard de la Tour-Maubourg, 75007 Paris – tél. : 01 45 50 21 09