When you come from Porto-Vecchio and drive towards Figari, it is enough to let your eyes linger behind the edge of the cork oaks, like a film shot on film, almost out of focus, to discover some secret paths. In Valicella, the vineyards are so steep that it is said that the pebbles can move when they bake in the sun. Between immortelle fields and lavender meadows, the maquis is as thick as a bramble. More bushy than a bocage. This is where Pierre-Paul Nicolaï's vineyard grows. Six hectares of AOP Figari Corsica, vermentino grape variety. 60 000 m2 of beautiful and pure land, limestone and granite. Bathed in sunshine on the hillsides and warmth, tempered by the nearby sea.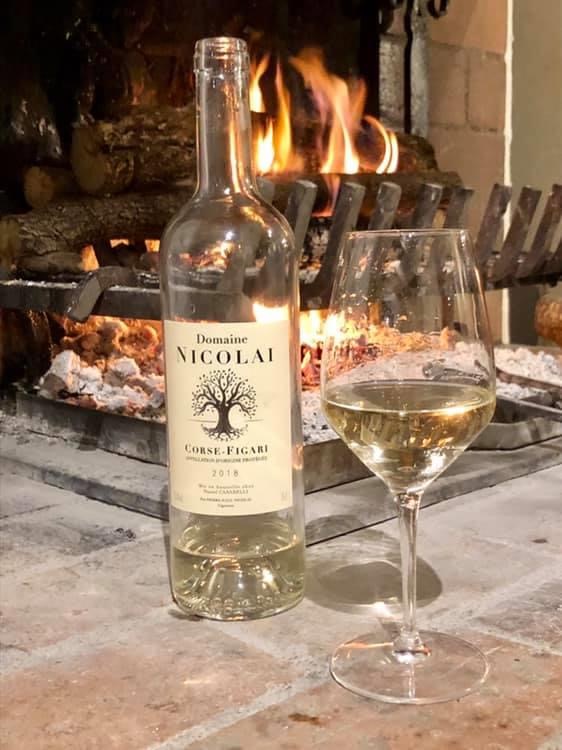 Pierre-Paul produces a fruity and delicate white wine whose quality is the talk of the island and is beginning to be heard on the mainland. It's only been five years since this 32 year old successfully improvised himself as a winemaker. "When I found out that the land was AOC, I told my father that I wanted to live upstairs, in my grandfather's old house". Determined, but without the slightest experience, he abandoned his Italian studies, encouraged by his father, a fireman in Porto-Vecchio. Listening to the advice of his mentor, the winemaker Yves Canarelli, he began to clear his land of shrubs. Chasing rocks and brambles too. He builds a shed by learning welding and mechanics on the job. Then he finally planted his first vines. "We had to learn everything, even how to make wine," he recalls with emotion. "In the morning I started at 4:30 am at Yves' place. It was so hard that I would have cried.
But Pierre-Paul's will is unshakeable. Against the wind and the sun, but never against the tides, he plants a hundred vines. In spring, they give large green leaves – almost apple – which contrast with the charcoal blackness of the feet and especially the beige Sienna of its Corsican soil. "Aterra" as they say in Figari. In the fall, he harvested his first crop by hand. His vineyard is not afraid of anything, it climbs the steep slopes of an arid, but unique terroir, which powders dry in the summer, almost burned by 2,885 hours of sunshine per year. The record of France. It clings to the mountain with its gnarled vines like elm snakes. As a result, in a few years, Pierre-Paul manages to produce one of the best white wines in the region.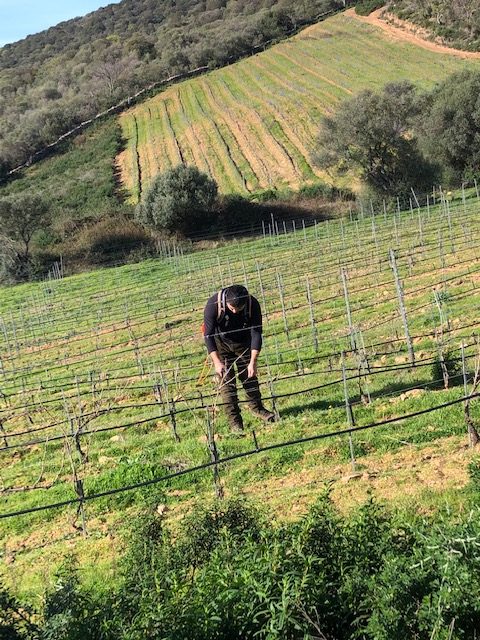 His wine, it will seek first its pale yellow dress on the unique character of its grape vermentino. Its nose, it sculpts it on the white flowers of camomile and hawthorn. Its delicate mouth makes speak the silk of its fine and balanced acidity. It is a success. But not a miracle. "I was trained by the best," he humbly admits. Mon terroir est magnifique, son exposition est rare. Le seul qui bénéficie de la même orientation c'est Jean Ferracci. Je ne fais que récolter le fruit de ma chance. » Et il ajoute en souriant : "if I don't do it, who will?"
The fruit of his hard work as well, because Pierre-Paul is not satisfied with just cultivating his vineyard, he manages immortelle plantations on several hectares and distills his own essential oils. He uses the remains of his distilled flowers as fertilizer for his vines. As a result, Pierre-Paul now produces 1,000 bottles per year. Its vintage is said to exude notes of fresh apples and green almonds. There are even some dreamers, poets, who find notes of pears and fresh pineapple. It is not by chance that the winemaker has put a beautiful tree on the label of his bottles. There is only one left, in the middle of his domain. It is a juniper. No one can say if he has any influence on the taste of his wines. But this multi-century-old relic, which undoubtedly dates back to the youth of his great-grandparents, resembles in every way the character of our young winemaker. Like him, he knew how to make his roots flourish in the stony soil of his mountain, facing the sea, much higher than the less intrepid olive trees. Like him, he is anchored to the body of this land. To the soul of his country. Deep and frank like his handshake and his jay hair. Solid and unalterable as the witness of an ancestral know-how that he knew how to revive.
By François Tauriac
Contacts : Domaine Nicolaï – AOP Figari Corse – D22 Valicella 20114 Figari – 06.83.81.91.85. and domaine.nicolai2a@gmail.com