Memories and emotions of an exceptional Parisian dinner in one of the great palaces of this world, the Plaza Athénée, with the pope of French gastronomy: Alain Ducasse.
By François Tauriac
Life is too short to give up on honoring its joys. Dining at Alain Ducasse's Plaza Athénée is one of those once-in-a-lifetime blissful experiences. First, we push the swinging door of the palace entrance, pressing on the copper bars to rotate the cylinder that guards the opening. Then we let ourselves be invaded by the perfume of amber and dried flowers distilled by the Berger lamps in the entrance. Once past the lobby, you enter the garden courtyard where the floors overflowing with ivy, ampelopsis and vermilion geraniums tower over you like red and green plant cascades, motionless, stopped in their lush fall, leading your eyes to the lapis lazuli ceiling of the sky that points to the penthouse suite. It's time for an aperitif. The dinner party is not far away. Once through the ancestral door of the dining room, the decor is a mix of classic moldings and avant-garde design. It was designed and built by architects Sanjit Manku and Patrick Jouin. It is made of mirror shells, wooden tables and even a cabinet of curiosities.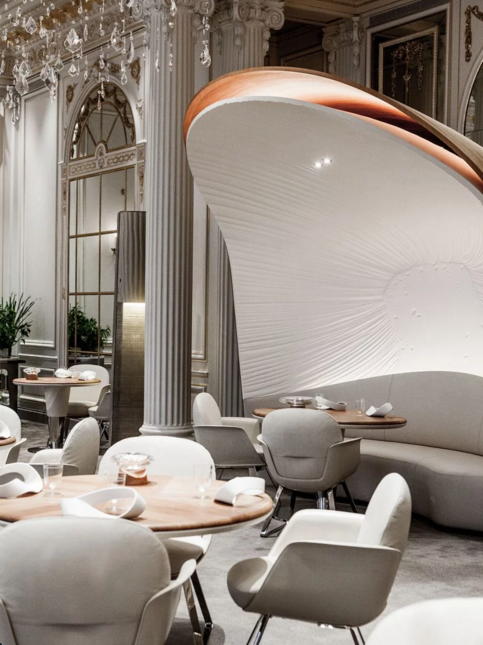 Everything is gathered then to let yourself be guided by Denis Courtiade, best room manager in the world – Prix Mauviel 1830 des Grandes Tables du monde, October 2018 – and national "bisouman", who welcomes you, smiling, like an ambassador introduces a head of state on his foreign soil. Nothing is tense. Even less obsequious. The champagne is served in magnum. This is the signal for the beginning of the gustatory hostilities. The flavors go on the attack. Dining at Ducasse is a journey. An exclusive and magical escape. In the middle of which are all sorts of OGNI – Objets Gourmands Non Identifiés. As soon as you are seated, you are offered three kinds of water and a vegetable drink made with mint, parsley, basil and lemon balm from the garden of the Château de Versailles. Toasted cereal patties – squash, sunflower, buckwheat, oatmeal and barley flakes – with puffed cereals. Sprinkled with ginger, lemon, bay leaf powder and dried hibiscus. Bread from the Chambelland bakery made with rice and buckwheat flour, brown flax seeds, sunflower seeds, poppy seeds and sesame seeds. A foccacia with wholemeal rice flour and green taggiasche olives. Another bread, this one homemade, made by the chief baker Guillaume Gabrol with rye from Auvergne. The butter that accompanies these delicacies is raw semi-salted and comes from David Akpamagbo in Locmélar. The salt used is that of a salt worker from the Millac salt works. It is served on the end of a wooden spoon as if it came straight from the churn.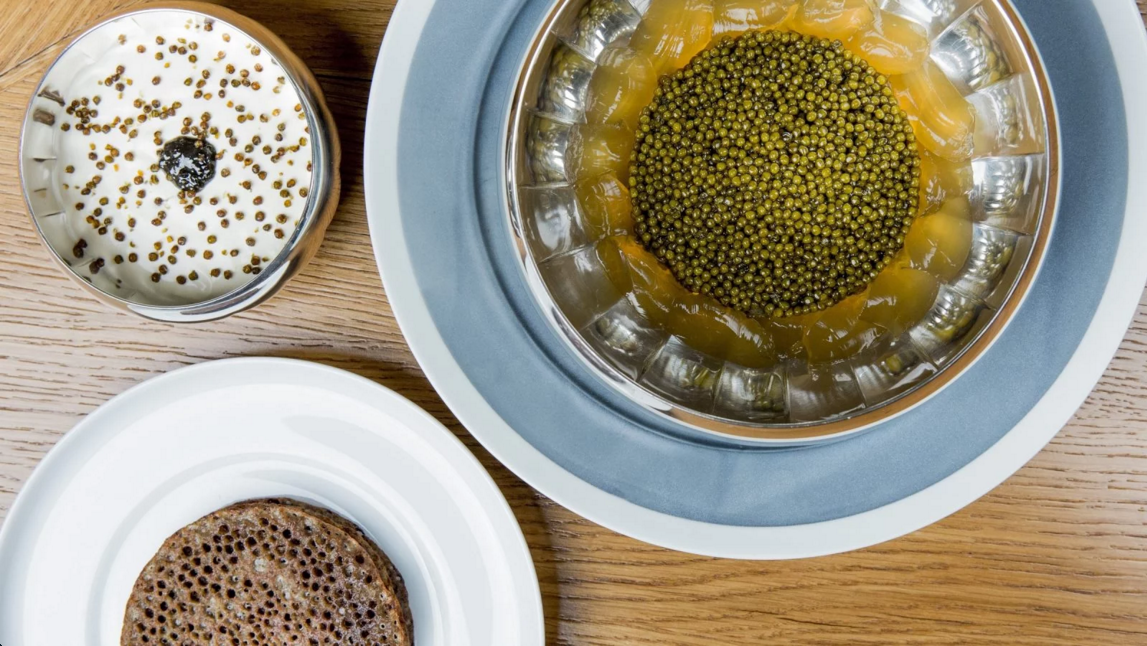 One can jealously tell oneself that one's neighbor on the left pays a beautiful tribute to the toast, but one welcomes the appetizers almost with relief. Here it's a crispy potato, matured tuna belly, burnt citrus condiment, that magically lands on the tongue. It is served on a grilled fig leaf, young flat peach, condiment of burnt lemons. As an appetizer, it is another peach, the one of the day in sardine, which comes to spawn on a heart of grilled romaine. It is presented in tempura "edges and head stretched". A dancer's arch curved like an arabesque. Too good to be true. The sculpture is accompanied by a mousse of chickpeas, lemon caviar, bay leaf powder, sumac and pickled wolf. A scum of hummus so light it could fly away. And especially to make all the caterers in the Middle East pale in comparison. We are not even at the entrances.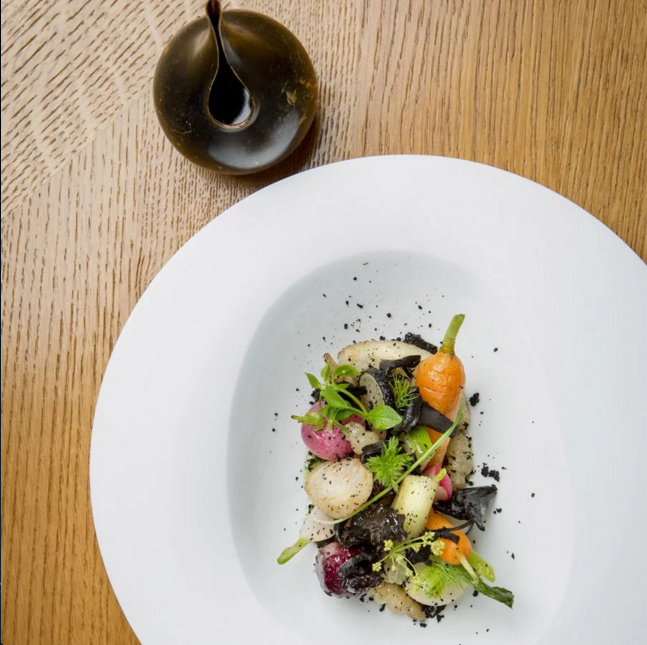 But to begin with, at Ducasse, there is no way to avoid caviar. What an ordeal. It is served on a bed of green lentils from Puy as a starter. A delicious island around which a delicate eel jelly floats in a swell of flavor. Poor man's caviar on rich man's eggs. It's amazing how this "al dente" vegetable from the Haute-Loire, so simple but so tasty, can be adapted with finesse to one of the most exclusive dishes. We butter mini buckwheat cakes, adding a light fresh cream. Finally the Cotentin fishery brings up a last lobster in its traps. It comes to the surface accompanied by radishes, watercress and crushed herbs. A Ciauria from Sicily, a wine grown on the slopes of Mount Etna, to wash it all down, with its mouthful of peach, crushed red cherries, rose petals and wet stones, and here comes the dessert to finish off your taste buds. The timing is perfect, they are ready to surrender.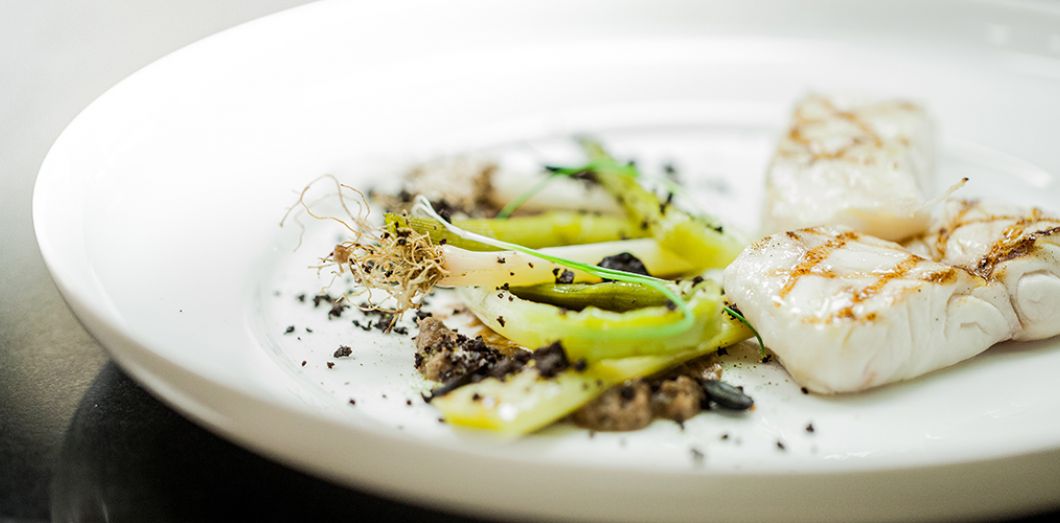 The timing is perfect, they are ready to surrender. The curse of the three stars. This is the moment that Chef Romain Meder chooses to fire a final salvo. Here are the ciflorette strawberries from Pernes-les-Fontaines, presented on frosted pine needles with a millasson cake. Oh dear. As if that wasn't enough, he continues his sweet offensive with a smooth cream of malted barley, frosted beer and hops. A few pitted Burlat cherries and a piece of rum baba "as in Monte Carlo", covered with a vanilla whipped cream and gorged with old rum – Habitation Saint-Étienne Don't throw any more away! My neighbor on the right asks for a vervain. But it's too late to make excuses. Or any digestive beverage. Except maybe an old Depaz? No. Let's be reasonable. The looks of the guests do not deceive. They are divided between ecstasy, disbelief and dazzlement. Tonight we were in the best kitchen of one of the most beautiful palaces in the world. There is no doubt about it. But of altar, it was especially question of the one of the pope of the French gastronomy. And it is on our knees that we prostrated ourselves to celebrate his imagination and his immense talent.