In the field of tableware, there are houses that daringly and happily overturn the traditional codes of creation, thus opening up porcelain and earthenware to new eyes.
By Sophie Lamigeon
Building bridges between tableware and new creative horizons is the challenge of three singular houses: Non Sans Raison, Maison Fragile and Faïencerie Georges. Each in their own way offers uninhibited, inventive, offbeat creations that turn the world of the table upside down and take over the decoration.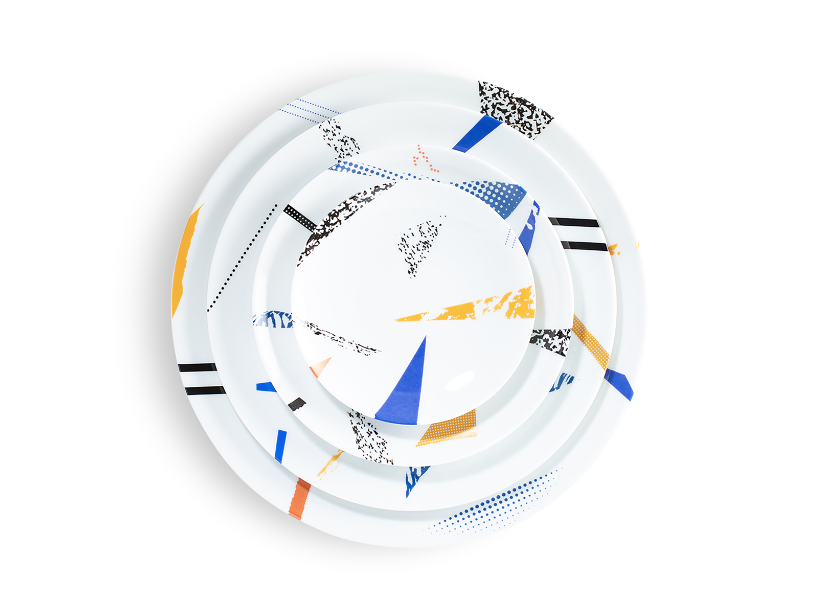 Founded in 2008, Non Sans Raison challenges the classical codes of Limoges porcelain, with the greatest respect for this ancient art industry. Freshly graduated from the Ecole Supérieure des Arts et Techniques de la Mode, Bertille Carpentier and Martial Dumas created this daring publishing house to reach out to a young audience with tabletop collections and design objects that stimulate the visual experience. Non Sans Raison takes porcelain off the beaten track to make it evolve between table and painting. Like an endless game, these very graphic collections offer multiple combinations that tell their own story.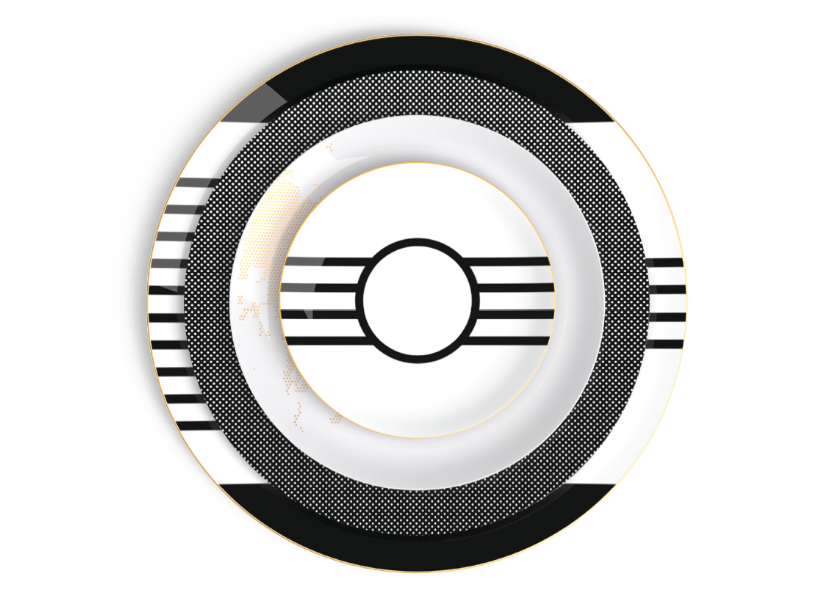 With Perspectives, the traditional thought processes of a department are indeed interrupted to make way for subtle and novel blends. Chacun peut ainsi créer son propre scénario du repas. And always in the respect of ancestral techniques: "Faithful to our convictions of ethics and quality, all our pieces are made in France in Limoges, with high quality raw materials. Our creations are handcrafted and benefit from the most talented handwork, the use of precious metals, a sense of detail, ideal temperatures and meticulous finishing. They are of an extreme fineness, a lightness and a unique translucence.they say. The Renaissance collection is adorned with a random and unique collage of recycled and ultra modern patterns on each plate. "Renaissance gives a new life to existing designs in our collections to avoid waste in our workshops. It engages Non Sans Raison a little more in a new ethical, creative and responsible era. The company plans to open its first boutique in Limoges in December 2020.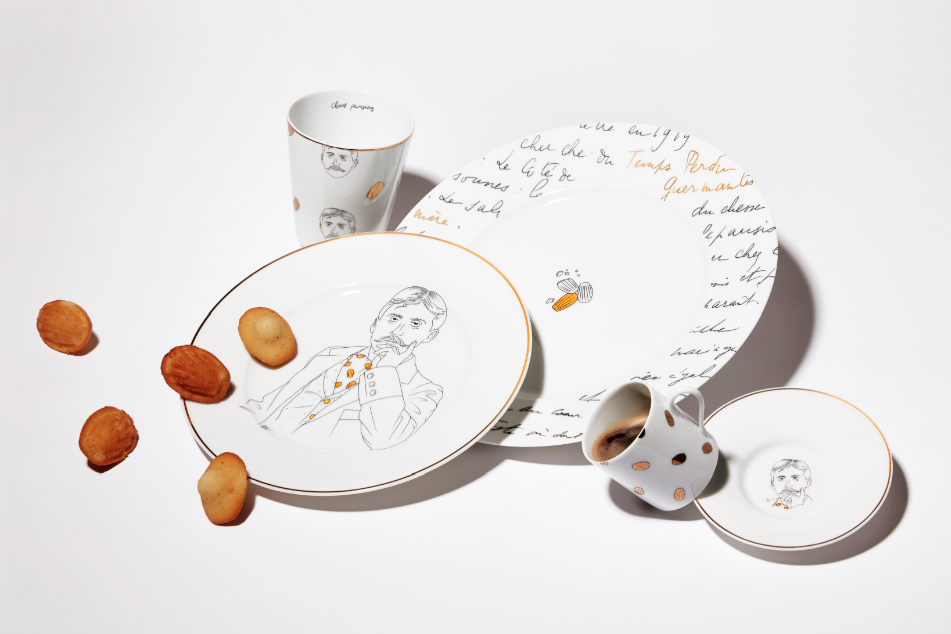 Maison Fragile mixes with impertinence a craft of excellence with a new breath brought by artists very "French Touch". Renewing her family history linked to porcelain, abandoned for a time for communication, Mary Castel founded her company in 2017. The Elysée Palace, seduced by this small company claiming to be made in France, is one of its very first customers. "Giving back the taste for beautiful things to the new generations" is the objective that the young woman has set herself: " We want to revisit the arts of the table to magnify the ephemeral moments, to give honor to creativity. His original collaborations with artists well anchored in their time, as audacious as they are subtle, revive and modernize the porcelain service: the artist Etienne Bardelli, the calligrapher Nicolas Ouchenir, the illustrators Vaïnui de Castelbajac and Safia Ouares, the photographer Sonia Sieff – who created with Maison Fragile the sensual collection Les Françaises – and even the three-starred chef Alain Passard, who signed the Dame Nature collection.
For the Chers Parisiens collection, illustrator Jean-Michel Tixier had fun sketching figures from Parisian life: after Serge Gainsbourg, Yves Saint-Laurent and even Marie-Antoinette, it's Marcel Proust that he sublimates in his legendary pose, wearing his symbolic madeleine on his glitter gold tie. With Couture, the illustrator pays tribute to couturiers, stylists and artisans through a free and non-conformist woman who frees herself from the shackles. These collections are made of fine porcelain. The fillets of the designs are made of 24-carat gold, hand-painted by highly skilled artisans. In parallel to her activity, Mary Castel brings her support to fragile people by organizing sales whose profits are transferred to the Reflet, an associative restaurant which integrates young adults with Down syndrome.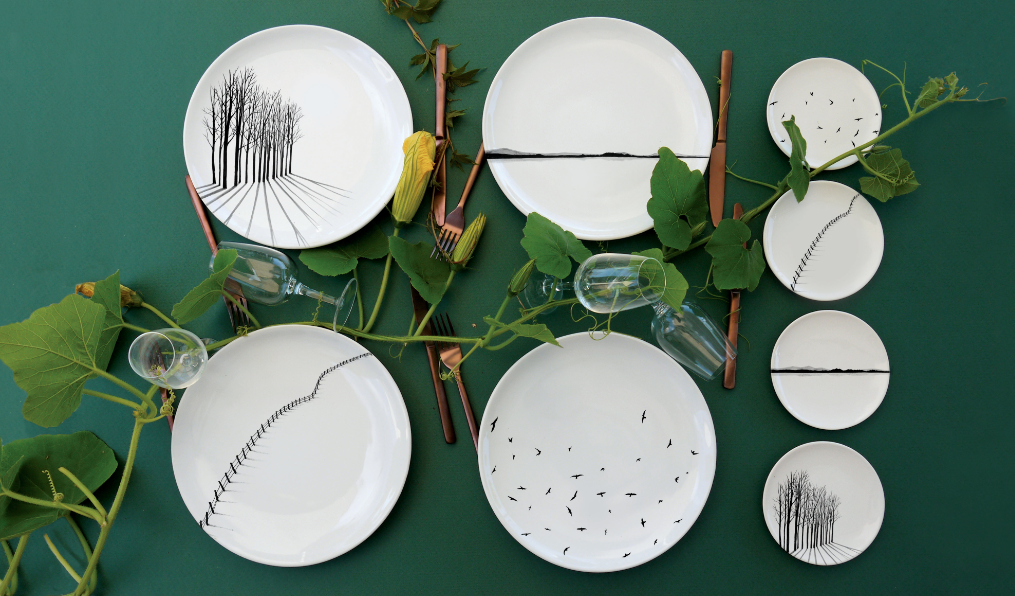 Their plates are poetic illustrations. Carole Georges and Jean-François Dumont have been running the factory founded in Nevers in 1898, the Faïencerie Georges, since 2010. Agitators of ideas, they give a new dimension to their heritage: "Faïencerie Georges has fun drawing on these objects an anthology of everyday life, suspended moments and unexpected situations, which illustrate with poetry a spontaneous vision of life.. In the course of meetings or walks, they have forged their universe of table and decorative objects, thanks to an ancestral know-how adapted to the requirements of contemporary uses. Their beautifully crafted pieces, in earthenware made more resistant, are hand-painted on raw enamel Playful, they are illustrated with scenes inspired by everyday life: skiers skiing down the slopes, bathers at the beach, industrial buildings, animals … With as distinctive signs, the play of material, shades in the colors.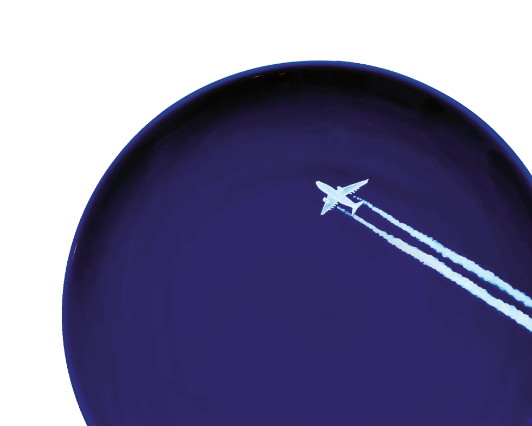 Hand-painted plates in limited numbered series for decoration, tableware… At the request of multi-starred chef Alain Ducasse, Faïencerie Georges has created collections of plates for his restaurant Esterre in Tokyo and for his new Bistrot Benoît in Kyoto. Faïencerie Georges is a member of Ateliers d'Art de France and has been awarded the "Living Heritage" label. It tells a contemporary story with fantasy and humor, bringing modernity to tableware.