Never short on news, French singer Roberto Alagna will be back on the Parisian stage in spring 2019, in Carmen and then in Otello. Considered one of the world's greatest tenors, this fall he is releasing a new recording with his wife, the Polish soprano Aleksandra Kurzak. We met them in exclusivity.
By Romain Rivière
Trouvère this summer, La Traviata in the fall, then Otello and Carmen next spring… Were you missing the Parisian public?
R. A.: I have always sung a lot in Paris, but it is true that I did a performance of Trouvère this summer, and a performance of La Traviata on the occasion of the release of the CD this fall. It was an idea of Aleksandra, who proposed this project to the teams of the Paris Opera who loved the project, and added a performance on this occasion. It was a challenge for me, since I hadn't sung the work for 25 years and didn't think I would ever sing it again, and especially a pleasure to sing it with Aleksandra.
A. K.: We did indeed have an extremely warm and memorable evening. The signing session lasted until two o'clock in the morning, and allowed us to measure the love and enthusiasm of this public. But me, anyway, I love Paris. In recent years, I have sung as much or more than Roberto. I love this audience, as much as the stage, the warmth and professionalism of the teams, and the management… I feel at home here.
In November, you released a new album of Puccini duets: Puccini In Love. Was it an artist project or a couple project?
R. A.: It was both. The idea came from Alezsandra, who dreamed of singing the duets from Madame Butterfly and Tosca once in her life. Finally, we pushed the project a little further by devoting an entire disc to Puccini: many discs of duets between a tenor and a soprano have been made, but none has ever been devoted to him. This is a first.
A. K.: It was indeed an old dream. Vocally, it was very difficult because of a very dense orchestration, but the satisfaction of having recorded this disc is immense.
R.A.: It is true that with Puccini, the difficulty is both technical and emotional. These great dramatic arias are complete, demanding, with great phrasing and many high notes. For Aleksandra, who had hardly ever sung Puccini, it was a baptism of fire. But the experience has been positive and we plan, in a few years, to sing Tosca together.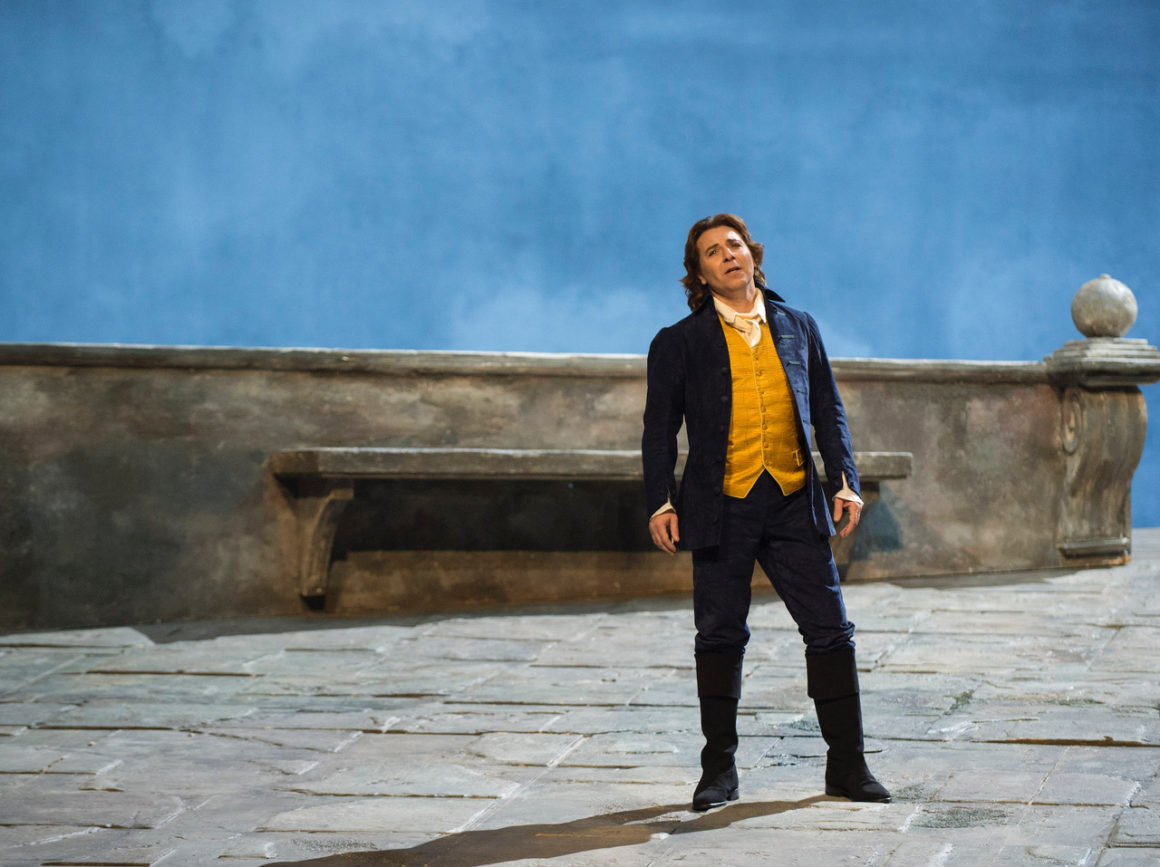 The Parisian public will also see you together in Otello, in spring…
R. A.: Absolutely. We have already sung it together in Vienna and will perform it again in Paris in the spring. It is a real pleasure because Desdémonoe, who is a very delicate character in the work and often underestimated, is wonderfully embodied by Alezsandra who succeeds in combining a temperament, a musicality, a sweetness, a fragility and a strength that make it a very complete character.
You have often triumphed in Paris despite vocal difficulties. Does this audience transcend you?
R. A.: I am lucky to have a panache that pushes me to always go to the end of things. I like the idea that an artist gives himself entirely, with his fragility, and I have often measured how much these experiences can lead to the discovery of new emotions and new sharing with the public. It happened to me, during the premiere of Carmen in Paris, that I was completely speechless to the point that I didn't think I could go through with the work. I went there, however, finding other possibilities thanks to my mind, and I think I sang my best final act of Carmen that night. But in reality, concerns about the vocal instrument are common for all singers. As Caruso said, "I'm in shape two nights a year, and on those nights I don't sing." Singers have a habit of canceling when they are not in shape. I find it very difficult to cancel.
You are often compared to Luciano Pavarotti, who died eleven years ago, because of your career marked by a great deal of risk-taking, an extremely wide repertoire, a pronounced taste for spectacle, and regular forays into variety…
R. A.: I have always considered that I had an instrument that was made to be used, without distinction between one genre and another, and I don't consider that I took any considerable risks. No more than Pavarotti, who remained a full tenor until the end, and kept a perfectly timbred voice in all circumstances without ever saving himself. He also had, in his own way, a real talent for acting. He played like a movie actor, like Marlon Brando, who didn't move much either, but was indeed one of the greatest actors in the world. Pavarotti concentrated all his play in the face and in the voice: you only have to see his Lamento in Tosca, with his luminous face and his subtle smile… It was extraordinary. He succeeded in making us forget his overweight: isn't that the characteristic of a great comedian? Despite all that has been said about him, Pavarotti was the greatest of all tenors and no one has or will be able to match him.
Through your performances outside the operatic repertoire, which have earned you much criticism, is it your ambition to participate in the democratization of opera?
R. A.: I never looked for that. When I go out of the lyrical repertoire, I always do it in an artistic, musical approach. All singers, or almost all of them, have at one time or another left the operatic repertoire. My difference with most of them, and even if my voice always remains educated and bel canto, is that I always try to give it a style that is close to the musical genres that I interpret, by not hesitating to free myself from the techniques of lyric singing. We often hear criticisms at this level, but the real responsibility lies with the media, especially the specialized media, who do not really know our profession or our instrument. We talk about purists, but purists are like the Loch Ness monster: it makes noise but we never see it, simply because it doesn't exist. It is a legend. We create a rumor that spreads in the columns of newspapers, but finally, nobody in the public has ever reproached me for having sung Luis Mariano or Sicilian. The greatest opera lovers, who are not so numerous, do not care because it is not their subject. And if they were to listen to these records, they would probably like it. In the end, music always remains what it fundamentally is: entertainment.
Some of your peers criticize the evolution of opera which, democratized, suffers from a mediocre quality of its productions: badly sung, badly staged. Is this your opinion?
A. K.: It has always been said that opera is more poorly sung than in the past. As soon as it's contemporary, we say it's bad. What is true is that in the past, the singers were at the center of the work and were freer, whereas now it is the directors and conductors who command.
R. A. : I am a passionate person before being a singer, I think that we sing globally better than before, but that we sing with today's taste. In the past, singers allowed themselves more: they adapted, cut, transposed, adjusted their voices. Today, we have to bend to the demands of the director and the direction, which do not always take into account the constraints and demands of our voices. The singers' frailties tend to be forgotten. We sometimes give a public dress rehearsal the night before a premiere: how can you sing at such a level two nights in a row? Corelli, who remains one of the greatest Rauls in history (in Les Huguenots), could never have sung the work in complete accordance with the original score. As for Kraus, he always gave himself a three-day break between performances: today, such a requirement would no longer allow him to be hired. Finally, it must be recognized that certain current stagings, in the decor, the props or the play between the characters, do not really tell the story anymore and that can be destabilizing.